5.

PlutoSDR Basics¶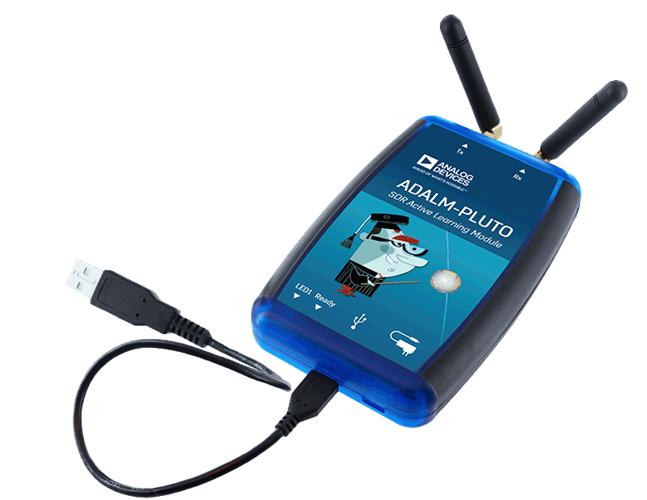 In this chapter we learn how to use the Python API for the PlutoSDR.
Software/Drivers Install¶
Python Exercises¶
Instead of just giving you code to run, I have create multiple exercises where 95% of the code is provided, and the remaining code is fairly straightforward Python. They aren't meant to be difficult exercises, they are missing just enough code to get you to think.
Exercise 1: Determine Your USB Throughput¶
Let's try receiving samples from the PlutoSDR, and in the process, see how many samples per second we can push through the USB 2.0 connection.
Your task is to create a Python script that determines the rate samples are actually being received in Python, i.e. count the samples received and keep track of time to figure out the rate. Then, try using different sample_rate's and buffer sizes to see how it impacts the highest achievable rate.
Note that if you find you are receiving less samples per second than the specified sample_rate, it means you are losing/dropping some fraction of samples, which will likely happen at high sample_rate's.
The following code will act as a starting point, and provides almost all the code you need to accomplish this task.
import

 

numpy

 

as

 

np




import

 

adi




import

 

matplotlib.pyplot

 

as

 

plt




import

 

time





sample_rate

 

=

 

10e6

 

# Hz




center_freq

 

=

 

100e6

 

# Hz





sdr

 

=

 

adi

.

Pluto

(

"ip:192.168.2.1"

)




sdr

.

sample_rate

 

=

 

int

(

sample_rate

)




sdr

.

rx_rf_bandwidth

 

=

 

int

(

sample_rate

)

 

# filter cutoff, just set it to the same as sample rate




sdr

.

rx_lo

 

=

 

int

(

center_freq

)




sdr

.

rx_buffer_size

 

=

 

1024

 

# this is the buffer the Pluto uses to buffer samples




samples

 

=

 

sdr

.

rx

()

 

# receive samples off Pluto



In addition, in order to time how long something takes, you can use the following code:
start_time

 

=

 

time

.

time

()




# do stuff




end_time

 

=

 

time

.

time

()




print

(

'seconds elapsed:'

,

 

end_time

 

-

 

start_time

)



My hint is that you'll need to put the line "samples = sdr.rx()" into a loop, and count how many samples you get each call to sdr.rx(), while keeping track of how much time has elapsed. Second hint- just because you are calculating samples per second, doesn't mean you have to perform exactly 1 second worth of receiving samples, you can always divide the number of samples you received by the amount of time that passed.
As part of this exercise you will get an idea for the max throughput of USB 2.0, something you can look up online to verify your findings.
As a bonus, try changing the center_freq to see if/how it impacts the rate you can receive samples off the Pluto.
Exercise 2: Create a Spectrogram/Waterfall¶
For this exercise you will create a spectrogram, a.k.a. waterfall, like we learned about at the end of the Frequency Domain chapter. A spectrogram is simply a bunch of FFT's displayed stacked on top of each other, i.e. it's an image with one axis representing frequency and the other axis representing time.
In the Frequency Domain chapter we saw the Python code to perform an FFT. For this exercise you can use code snippets from the previous exercise, as well as a little bit of basic python code.
Hints:
Try setting sdr.rx_buffer_size to the FFT size so that you always perform 1 FFT for each call to sdr.rx().
Build a 2d array to hold all the FFT results, each row is 1 FFT. A 2d array filled with zeros can be created with: np.zeros((num_rows, fft_size)). Access row i of the array with: waterfall_2darray[i,:].
plt.imshow() is a convenient way to display a 2d array, and have it scale the color automatically.
As a stretch goal, make the spectrogram update live.